THE WORLD'S MOST COST EFFECTIVE DIGITAL TRANSPORTATION NETWORK
"Pinmarx provides digital network transportation support to help me ensure my vehicles are on the road. They let me focus on other areas of my business because I know they have my vehicles covered," according to

Amazon Delivery Service Partner – Shawn C.
ASSISTING CUSTOMERS NEEDING MAINTENANCE, SERVICE AND REPAIRS
We use software and machine learning to efficiently connect customers and service providers saving valuable time and money. As a hub or marketplace, we create the "network effect" that benefits both sides of our platform and grows our program exponentially. Best of all the join-up is free and there are no monthly fees for both the customer or service provider.
What is Pinmarx?
A Digital Transportation Network that owns a proprietary software application called Pinmarx Connect. Our network, software, customer base & service provider or dealer channel make up the parts of our platform. Our platform supports companies that rely on any asset in their organization including transportation, material handling, facility & warehouse equipment. Learn more

Convenient, Accurate
Order services conveniently. When submitting orders customers can pick from the assets set-up and activated on their dashboard. Our application is user friendly.

Responsible Support
Service providers dispatched are responsible to provide safety audits, vehicle health reports and follow service level agreements reached with each customer.

Maximize Uptime
Maximize asset uptime and track preventative maintenance arrangements. Many customers report saving of 20% + using Pinmarx Connect Software.

Better Results
Using real data and contracted service providers, we deliver results that transform how your company operates. Our software connects drivers, assets and vendors.
DEALER SPOTLIGHT
"We are continuously searching for ways to improve our cleaning and sterilization business to reduce waste-water and to provide safe cleaning agents across our organization. By working with Pinmarx, we have dramatically increased our customer volume and we are able to use this volume to increase productivity, streamline our cleaning process and provide better overall support to mutual customers on-boarded by Pinmarx. With added volume we have developed techniques that are safer and reduce costs and waste. In our industry Pinmarx has been a valuable partner to our organization."
Bob Kemp – President, EnviroClean, Inc.






BE PART OF A NETWORK REVOLUTIONIZING THE TRANSPORTATION INDUSTRY
"A Digital Transportation Network like Pinmarx can help many companies like ours that are seeking on-demand flexibility to reduce the amount of time that it takes to maintain, service and repair an asset day or night"
-Dave Kenner – Driver at Shamrock Logistics
 
EFFICIENCY & TECHNOLOGY CUT WASTE
As more customers join the network volumes increase, our network gets stronger and larger allowing more members to JOIN-FOR-FREE eliminating or cutting fleet management costs.
Estimates provided 30 to 90 days in advance by service providers
Automated vendor assignment on pre-determined schedules
Integrations with North American GPS and technology companies

Use the Pinmarx tools to reliably manage assets without the costs of a fleet management company.
National, regional, & local support for nearly every customer
Submission and assignment support provided within minutes
Our platform can expand and contract while providing  support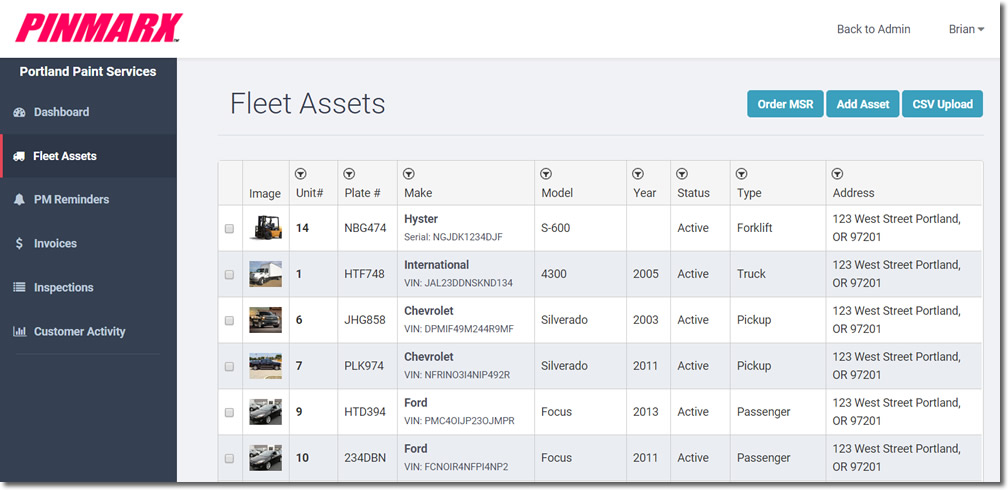 WHAT BUSINESS EXECUTIVES ARE SAYING
Pinmarx organizes a complete end to end solution regarding our welding and fabrication for totes and containers with their local dealer. The quality repairs help us concentrate on our recycling operations and assist our own internal shop during peak season & heavy workloads. Our relationship with Pinmarx has been excellent over the last few years.
Providing tire services to the Pinmarx network has been an excellent decision for our tire company. The management at Pinmarx understands the fleet customer business and drives the details when it comes to costs, service and scheduling. We value quality customers and the future direction with Pinmarx as our local partner.
Authorized Pinmarx dealer, Pacific Truck Repair (PTR) & their manager Mr. Bill Krell have managed the service and maintenance for each of the Northwest Infrastructure trucks for quite some time. They have arranged everything from quick preventative maintenance services to complete engine rebuilds. Bill schedules most of the repairs and generally completes each job on time or ahead of schedule.
Our company provides hazardous waste transportation in several countries but needs a service provider that can respond to our service and repairs both in the field and at the shop. The dealers at Pinmarx support our fleet needs and assists us with all of our maintenance, service and repairs. They are reliable, consistent and always available.
Working with Pinmarx in both Oregon and Washington has opened up many opportunities for our growing lift truck organization. Our mutual customers receive pre-determined pricing, scheduled maintenance and after hour emergency services whenever a unit is in need of repairs or maintenance. Pinmarx professionally supports our organization and finds many different ways to help our customer's save time and money. They think outside the box in this demanding economy.
Pinmarx and their dealer S&T schedule, pick-up and return our units as soon as they are serviced with just one phone call. Their professional staff understands our time frames and the importance of thorough servicing. They look for any DOT safety violations and make sure our units are functioning properly before they are returned to our facility. We couldn't be more happy with the attention to detail they provide.
Pinmarx is a smart, new & effective gateway for retail, commercial and industrial clients to save time and money. Our affiliation with Pinmarx proves that they acquire qualified dealers that are leaders in their respective industries. Our company has nearly four decades of experience in multiple states and has a proven professional track record that our mutual customers trust and respect. We believe in the direction of Pinmarx and feel fortunate to provide services for so many wonderful leading edge customers.
Hands down, the best software in the industry. I can monitor repairs, mileage, fuel use, engine diagnostic codes, schedule repairs, view invoices, and other vehicle data. It's amazing that I can do all this from my office. It even has a pre-trip inspection via phone or tablet. Pinmarx software saves Thermal Supply, Inc. money, and increasing the safety of your entire fleet.
Working with Pinmarx on various types of fleet vehicle and trailer equipment repairs has helped us reduce our company breakdowns, eliminate overcharges and keep our diesel trucks on the road year round. Their dealer support at Mark's Quality Repair Service is excellent and very responsive to our growing needs. They stand behind each coordinated repair.
The dealers and Pinmarx have been wonderful to work for and expect high-quality paint & body services for all of their customers. Collectively, Pinmarx, the dealers, and our company negotiate all of the pricing, terms, and conditions before any of the work starts. It's nice to concentrate on the paint & bodywork and let Pinmarx take care of most of the customer details before the work begins. The service provided by Pinmarx allows us to stay focused on lowering costs and increase our number of projects.
The team at Pinmarx provides us excellent mobile services for our vehicles in the field and on-demand. Their dealer J&D Fleet Services is a top-notch California & Nevada provider working hard for us in the entertainment industry. Using the Pinmarx network for towing, vehicle repair, DOT inspections, and fleet services is very easy.