Transporting or shuttling a vehicle can be a tedious and costly experience over time. As an asset owner, you want to make sure your unit is picked up on time and dropped off when repaired, so your work or last-mile delivery schedule is not interrupted.  At iShutyl, you are working with the best automotive transport platform in the marketplace. Commercial vehicles are the lifeblood and core to your transportation program and it's more important than ever to feel secure when you need to deliver your asset to a service provider and have preventative maintenance or scheduled services completed.


iShutyl is a door-to-door car pick-up and delivery service that is the most convenient method of auto transport. You select a specific address for your vehicle to be picked up and dropped off and make the key arrangement and we do everything else. Generally, large domicile fleets park in the same locations after asset use and our digital platform will coordinate the rest including all pick up and delivery coordination and bill the appropriate parties based on the iShutyl expense agreed to in advance. The driver will pick up and drop off your vehicle at the exact address agreed to safely and responsibly.
The most important factor in repetitive transport is to have dedicated processes established with iShutyl, dealerships and professional service organizations through Pinmarx and the Pinmarx Connect application software. Find out which programs have the best results for your transportation needs and overall budget. Keys, logistics, driver issues, tardiness and vendor scheduling are all eliminated when ordering services through Pinmarx Connect and using the iShutyl program. Our iShutyl program allows you to do all of these things in one simple platform.
Asset Transport Services
Door to Door Auto Transportation Services
iShutyl, is a program managed by the family of Pinmarx operated entities and sponsored by dealerships, ride-sharing drivers and individuals wishing to earn more while transporting an asset for maintenance, service or repairs. iShutyl will pick up and deliver your vehicle when scheduled services are required. If necessary, our drivers will work out an accessible parking lot to pick-up or deliver your vehicle with your complete approval in advance. Most services are scheduled 14-30 days in advance.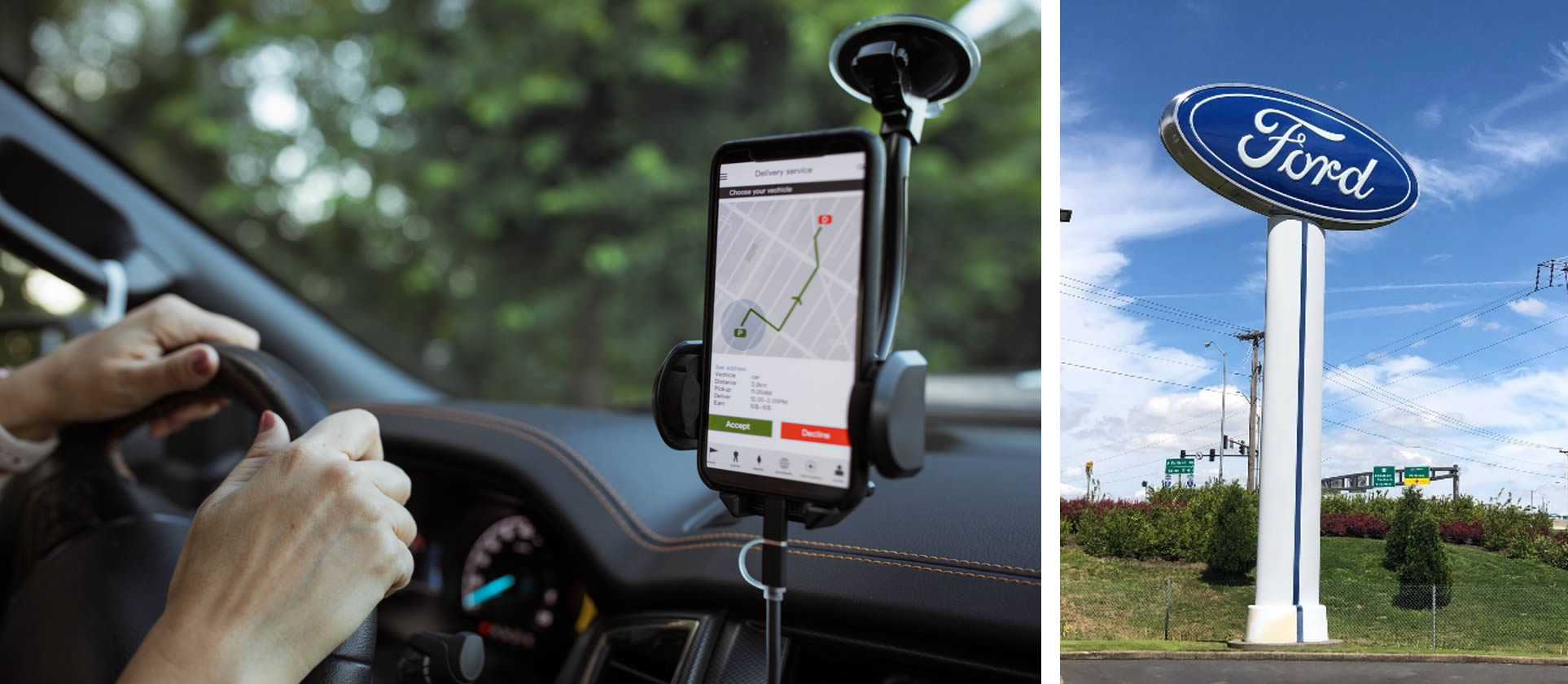 How Much Does it Cost to use iShutyl?
Depending on your location and region the average iShutyl fee to transport a vehicle through the platform ranges from $10.00 to $40.00 dollars and is made part of your final billing through your authorized service provider. Of course, the cost to iShutyl an asset depends on a few factors:
Distance: Distance is the main factor calculated in the cost to iShutyl your asset. If you're not going far, it will cost less overall, occasionally a higher cost per mile. This is directly related to the amount of time required to transport an asset and how many trips are involved.
Asset Type: When shipping vans, cars, trucks, etc. type matters for cost. Most high-roof vans range in height from 101 to 109 inches, while standard low-top vans range from 57 to 96 inches based on various makes and models. Due to this height difference, high-roof vans are typically more expensive to transport than low-roof vans. Additionally, special high-roof vans are taller than usual and drivers need to calculate for electronics, cameras, sensors, etc.
Vehicle Length: Some groups that iShutyl assets use vehicle length in their calculations towards the final cost to iShutyl an asset to and from the service provider. With the average total length of a high-roof van being over 200 inches from front to back, vehicles in this category become desirable and common in last-mile delivery van repair. Customers can achieve faster, easier and cheaper rates included in their iShutyl program.
Vehicle Make and Model: Vehicle make and model is a definite factor that goes into the cost of an iShutyl agreement, which is why iShutyl requires all of the details when creating your written estimate. The larger the vehicle or the more weight involved, the higher the vehicle rate structure will be to iShutyl and transport your unit to an authorized service provider.
iShutyl Transportation Specialist: As mentioned above, there are many types of units to transport. From a concrete mixer requiring a CDL to an electric import hybrid. You can choose the best transport option and iShutyl estimate in advance and calculate those savings into your program to save your organization valuable time and money.
Condition of Vehicle: If your vehicle is inoperable running condition, you will receive affordable towing quotes and on-site repair quotes that will be added to the final repair ticket from your service provider. It's important to note whether your vehicle is inoperable in your iShutyl request when submitting maintenance, service & repair tickets commonly referred to as MSR's.
Pick Up and Delivery Locations: Urban and metropolitan areas typically have a lot of iShutyl opportunities available which keep the cost to a minimum. Depending on your location we will add rural stops to an iShutyl program if required and planned. Detailed planning will require additional effort, support and expertise scheduling when quoting.
Seasonality: Depending on the frequency, final schedule and time of year, iShutyl may cost less when transporting assets in the summer but our company will build an annual plan that fits each customer's needs in many of the regions we operate. Snow and rain are just a few obvious factors we calculate into our pricing but all services are priced in advance so there are no surprises. All costs, fees and estimates provided by the service provider to the customer must be approved in writing in advance before any iShutyl events take place.
Dealer Warranty and iShutyl: The good news is generally in most cases, iShutyl services are free when local dealerships and authorized service providers pick-up and deliver each unit. Costs and fees are repaid by the manufacture of the asset and zero dollar tickets are very common but tracked through our program.
If you're interested in what it costs to use the iShutyl program for your car, truck, or van you can visit our pinmarx connect and request a quote. You'll find how much it is to include iShutyl locally and get accurate quotes from a professional network of dedicated service providers.

Guide to iShutyl:
Overview of the program
Various written pricing options
Local iShutyl through dealerships
Removing all personal items in the cabin
Lot to Lot transport services included
Types of assets commonly transported
What to expect at pickup and delivery
Choosing the best local pricing options
Preparing for transport and quick services
Keys, locks, doors, transponders and parking
What you'll like about iShutyl and our door to door mobility program:
We make it easy
With iShutyl services, your car, truck or van will get from point A to point B without you having to break a single sweat or make a single call. By having your asset delivered directly to your service provider, you're allowing the experts to handle every step of the process and ensure there are no logistic issues along the way. No scheduling, no employee coordination, no worries.
Save time
With our door-to-door mobility program integrated into our platform, kiss traffic, freeways, accidents, and appointment scheduling goodbye. Let iShutyl take the responsibility out of your hands with door-to-door or lot-to-lot vehicle servicing and total scheduling through our application software. Sit back, relax, and watch your asset reach its final destination with our on-time transportation program.
No need to go to the lot
With lot-to-lot and door-to-door iShutyl support, your asset will be picked up at the parking lot while the service provider is preparing to fix your unit at the shop with all of the proper tooling, parts, lubricants, filters and software to quickly service or repair your asset and deliver it back to your domicile location. This process is easy, organized, and accurate. With lot-to-lot and door-to-door service like this, your drivers are ready to concentrate on loading at the distribution center with a safety-checked asset that is properly maintained.
Relax and don't worry
Our professional service providers generally maintain insurance coverage that will fit the needs of most last-mile delivery and logistic groups. Your asset is insured for door-to-door iShutyl services by the individuals that drive your vehicles. Our service providers carry sufficient insurance at all times when performing iShutyl transportation services. Relax, sit back, and let us deliver your properly maintained asset back to your lot so you can continue earning revenue.
Why use iShutyl for your lot-to-lot transportation program:
Bundled pricing
At iShutyl, we coordinate accurate, professional lot-to-lot and door-to-door transportation services to make fixing or servicing your asset quick, simple and at pre-determined and agreed pricing. Your Asset… Your Rules… We will work with our service providers to deliver your asset for a total fee included with your service event at the best possible price. Our staff will use online tools and telemetry coordinates to determine all the needed factors before we provide you an accurate and all-inclusive pricing structure.
Multi-vehicle, transportation solutions
Our specialty is supporting groups of assets at one centralized location. Logistic company's working in set regions with several assets the same routes are the specialty of our program. Units owned, leased or rented by our customers can be easily migrated to our platform with little to no inconvenience. You will enjoy our multi-vehicle transportation service at iShutyl. Be confident, every asset will be delivered to your facility on time.
Digital inspection
When your asset picked-up and delivered to the service provider, we will confirm the general exterior and cabin condition of the asset and you'll be able to log in and see any concerns regarding your unit. We will complete a digital inspection of the asset prior to the start of the iShutyl. The driver will post the inspection report right from the pick-up location, providing a smooth and transparent iShutyl process.
No upfront payment required
That is correct, $0.00 – ZERO UPFRONT FEES! The best scenario iShutyl is that it is one of many services offered as part of a bigger free-to-join package provided through our platform. Customers join for free and service providers obtain more business. It's a simple process that works well for all users. Once you decide to go forward your total bill from your service provider, fleet management company or fleet rental agency will document all of your expenses per invoice. You can book your lot-to-lot transportation service and pay as you go with your all-inclusive bill from the service provider. It's a win-win-win for everyone.