Interested in a quality tire program?

The Pinmarx SNAP Commercial Tire Program Saves Valuable Time & Money
The SNAP tire program connects mobile tire service providers and physical brick-n-mortar tire shops with customers needing complete tire management support and other basic automotive and inspection services. Our program conveniently networks both mobile service providers and national tire centers along with commercial and industrial tire specialists so customers can have their tire repairs, switches, flats, and over-the-road breakdown support coordinated under a process they are comfortable with at Pinmarx.

Customers always determine final schedules and set the frequency of their service events. Your Assets… Your Rules… Your Approval… The best part about our process is your Pinmarx representative will work closely with your management.
On-Site Mobile Services
Tired of waiting for services at the brick-n-mortar facility? Pinmarx offers a 100% mobile, full-service tire shop that comes to your business or facility prepared to install tires or wheels and most safety-related brake components. With our expertly trained technicians and state-of-the-art mobile trailers and mobile vans, we deliver top-of-the-line service for your assets 24/7.
Our service providers have years of expertise in keeping fleets running with virtually zero down-time. Pinmarx Connect software will schedule routine inspections and keep your tires, wheels, brakes, and all rolling chassis components in optimal working condition. For anything unexpected, order at Pinmarx Connect and we will schedule onsite support to provide a timely fix and keep your asset on the road.

iShutyl and Shop Services
Pinmarx offers a 100% iShutyl or pick-up and delivery program through our dedicated service providers. Our service providers will arrive at your facility prepared to drive your asset to an authorized service center. Our expert iShutyl drivers are trained and experienced to safely deliver your vehicle and all we need are the keys to your asset. With zero down-time your units are properly maintained and supported, and your business can focus on delivering packages and managing your staff.
The SNAP Tire Program & Pinmarx
Pinmarx operates a digital platform that specializes in transportation services. Our service providers use high-quality, preventive maintenance methods that cater to your vehicle's wide range of demanding needs. Whether you are ordering tires from your smartphone, submitting orders through your computer, texting, or calling our toll-free number, we are fully equipped to support your tire needs.
Our service providers are ready to deliver the best industry practices. Our SNAP Tire Program provides each customer with the best services; our technicians possess years of industry experience and will cater to your company's needs to ensure maximum vehicle tire performance.
Our main goal is to ensure that your tires last longer and achieve the lowest cost of operation possible while your commercial travel is safe & compliant. At Pinmarx, we are here to make sure that your asset operates safely, and our mobile service providers & shops take pride in their opportunity to work for our mutual customers.
Advantages of Using Our SNAP Tire Program
Units can be scheduled within just a few minutes – no downtime
Most service providers include mobile, pick-up & delivery or iShutyl
Our service providers help maintain OEM suggested service intervals
Maintenance histories and service costs are available for all customers
Trained technicians are certified and maintain on-going customer support

to establish the correct mileage or time intervals each manufacturer suggests ensuring maximum tire life and the best possible safety options. Our process is completely digital, simple to use, and free.

Tire Inspections
A good quality commercial tire program requires a coordinated inspection process. With Pinmarx and our network of professional service providers, your fleet can be maintained at the highest possible level during every stage with on-demand commercial tire support. Our Pinmarx Connect software helps minimize cost and wasted labor by completing inspections and routine checks before they occur which saves time and money. Our professional and qualified service providers have the right tools and inventory to keep your assets moving and safely operating 24/7.
Service Programs
Air Pressure Management
A critical component for maximum tire life is routine air pressure checks. This process can help achieve significant savings with commercial tire support and the costs are relatively inexpensive for each asset owner. To achieve the lowest cost per mile during the lifespan of any tires installed on your asset Pinmarx service providers can be routinely dispatched on a predictive schedule to check air levels and pressure in each tire to improve safety and avoid bottom-line expenses. Save money on irregular wear and fuel costs by proper inflation and a dedicated inspection process.

We recommend the following tire support
Check tire pressure regularly on a dedicated schedule
Use quality tire brands tested & recommended by our service providers
Verify all tire brand costs and understand the total package for your fleet
Develop local tire storage and installation process to properly match tires
Unit Standard Service Tire Program
Depending on the assets operated by your organization, service providers will replace worn tires based on state and federal regulation and compliance. During each inspection or service event, your service provider will make professional recommendations based on experience, your region of the US and the type of support required. Our multi-point inspection process will keep your light, medium, or heavy-duty assets operating safely down the road.
Our service providers check the following as a standard on each tire during a tire "bump" or inspection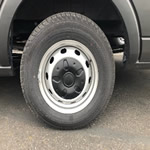 Condition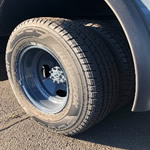 Tread Depth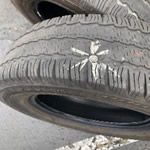 Debris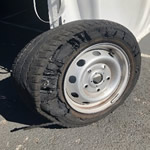 Damage
We check the following on a routine schedule with expert service providers:
Condition
Tread depth
Air pressure
Debris or objects
Cords or belts showing
Bent rims or wheel problems
Leaking or broken valve stems
Tire pressure monitor system accuracy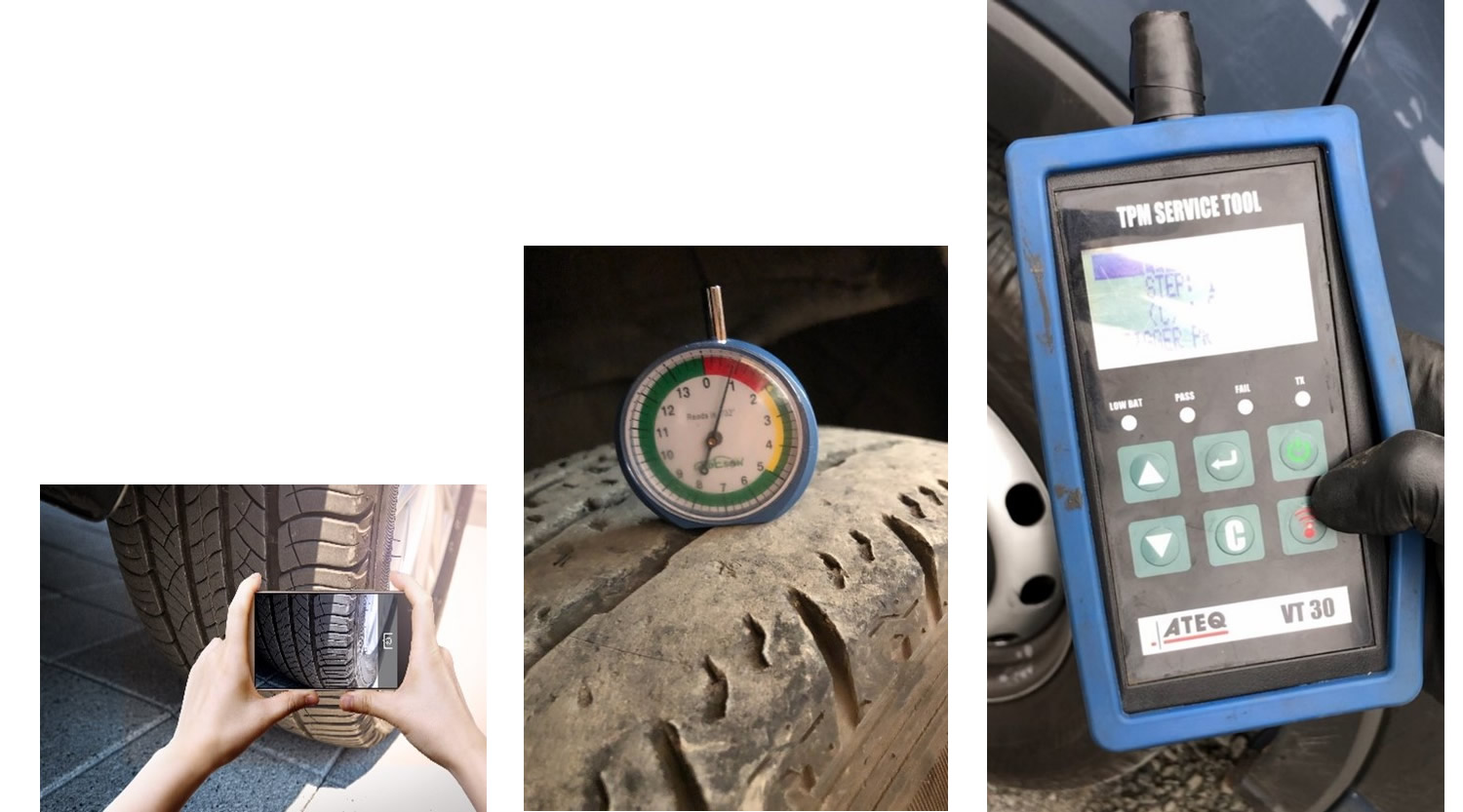 Typical Dealer hours: Mon – Friday 6am-6pm – Saturday 8am-6pm – Mobile 24hrs a day or log on to www.pinmarxconnect.com to schedule your next tire service
New and Old Tire Measurements
What a Worn Out Tire Looks Like
Mobile Tire Installation
Mobile Tire Dismount